Vitality may mean different things to different people. In today's everyday, wellness has become a priority as it should and the professionals at Vitality Wellness Spa help you achieve your goals. Our team of experts offer the best in Esthetics, Hydration Therapy, Botox, Fillers, Acne Solutions, Cool Sculpting, Body Contour, Medically managed Weight Loss and more.
Wellness for Residents and our Guests in the Smoky Mountains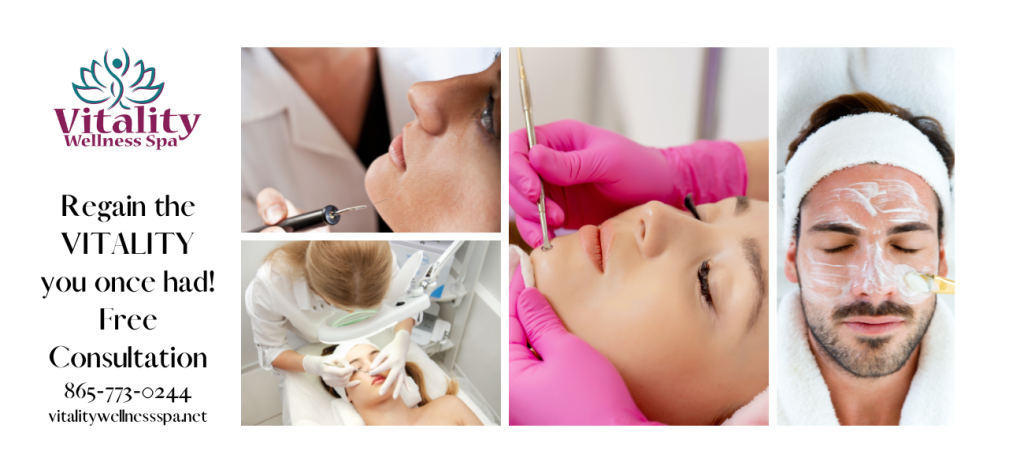 HOW DO YOU BEGIN?
Sometimes getting started is the hardest part! At Vitality Wellness Spa, you are welcomed for a free, no obligation consultation to discuss your health and wellness goals. They will go over these goals and develop a plan to address the areas you want to improve and grow in.
Wellness Services to include Weight Management and Vitamin and Hydration Services. Enhance your immune system, reduce fatigue and improve your energy level. Ask about available Physician Care Services

BODY CONTOUR

Body contouring, or body sculpting, can eliminate fat, shape areas of the body and tighten skin. Body contouring is an effective and safe way to lose weight. It's a medical procedure that can be used in addition to other treatments like exercise and dieting. Body contouring works by replacing fat cells with healthy ones while removing the excess tissue from your body.
The professionals at Vitality Wellness Spa have been through extensive training and are prepared to take care of your body contour needs. Ask about Kybella, Coolsculpting, Venus Bliss programs and more.
Vitality Wellness Spa offers many services for weight reduction, vitamin services, hydration services and more. Call them and they will be happy to schedule your free, no obligation appointment! 865-773-0244